Cultural activities
From our hotel in the centre of Beauvais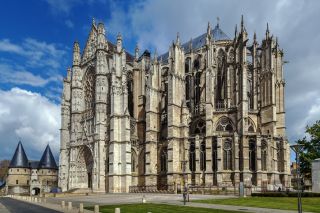 Too often omitted from travel guidebooks, Beauvais is full of surprises for those who take the time to visit. When you stay at Hotel Victor, the centre of town and all its heritage is at your feet.
If you only have time for one thing, be sure to head to the Saint-Pierre Cathedral. The 67 metre-high Beauvais cathedral is almost as tall as Notre Dame in Paris (69 m). As soon as you step through the massive front doors, you will be amazed at the uniqueness of the nave, which is home to the highest choir in the world. The magnificent organ, astronomical clock, and stained-glass windows will make your trip to Beauvais a spiritual one.
Surrounding the cathedral, you can enjoy the city of art and history, in particular at the MUDO museum. In the former bishop's palace, visitors can see works from the 19th century as well as paintings by local artist, Thomas Couture. Another artist that Beauvais is famous for is André Van Beek, whose garden will impress visitors who enjoy floral compositions and romantic paintings.